Inside this Edition:
Important Dates to Remember
Hales Property Management Updates
How to Have an Energy Efficient Summer
Best of the Blog
Maintenance Tip: Save Time Painting this Summer
From the Desk of Keith Hales
Important Dates to Remember
The annual budget season for associations is fast approaching and it's never to early to start suggesting new projects at your building. Please submit any project requests for your building at www.halesinc.com and click Resident Login so that your property manager can be sure to add these items for Board consideration.
Want to be apart of the decisions made at your building? If so, please inform your property manager as most associations will be holding their annual meeting during the Fall season.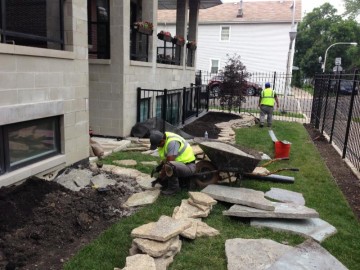 Photo of a recent landscaping project
Don't forget to update your City Sticker before June 30.
Hales Property Management Updates
We are pleased to welcome the addition of eight more associations to our portfolio: Monroe, Westgate Terrace, Walton, Sanctuary on Superior, Wolfram, Terrace View, Wrightwood Dayton, and Damen Pointe! We look forward to working with the Board to make your building a better place to live.
As we continue to grow, we also will be adding more members to our team. Please check out our newest job opening: Property Assistant and let us know if you or anyone you know would be interested.
Also, we have had a record number of closings in the past few months as a result of the strengthening real estate market. As a reminder, please inform management of your intention to sell your unit so we can ensure a smooth transition.
Lastly, please note that our summer office hours are 8:30AM through 5PM, with the exception of Fridays which have a 1PM office closing. Don't forget that our web portal is available 24/7.
How To Have An Energy Efficient Summer
After an excessively long winter, Chicago weather has turned around completely, with one day last week reaching 90°F. This summer, keep your cooling bills manageable by following these five tips:
Replace weather stripping around windows and doors if necessary in order to keep the cool air in.
The sun's rays bring heat inside your home. Leave the shades closed during the day while you're at work to come back to a cooler home.
Use/install a ceiling fan. These will keep you cool by generating a wind chill effect at a fraction of the cost required to run the AC.
Use a programmable thermostat. Turning the thermostat temperature up while you're away from home will use 3-5% percent energy for every degree you raise the thermostat during that time.
If you're going to be away for more than a few hours, consider turning your AC off completely. It's a myth that keeping the AC on while away is more energy efficient.
Toilet Won't Stop Running?
Click on the video above for step by step instructions on how to repair a running toilet.
From the Desk of Keith Hales
It's finally summer and all of us here are already completing many maintenance projects that have been adding a great deal of value to various buildings. As always, if you have any suggestions on improving the common areas, please let your property manager know so that they can convey the message to your Board members and begin the planning process.
In the upcoming months, we will be working diligently on proactively gathering bulk rate pricing for various expenses at your building. This will inherently translate into further savings for your building and your wallet.
Lastly, I'm happy to reveal that we'll be expanding our office in order to add additional talent to our team. If you know of anyone interested in working in a fast paced, challenging and healthy work environment, please let me know. As we continue to grow, feel free to contact me directly if you have any ideas for helping us to further improve our level of service via email.
Thank you,
Keith Hales, President, CAM, Managing Broker
Hales Property Management, Inc.
(312) 666-0149 x4