Important Dates to Remember
Updates at Hales Property Management
How To: How To: Deal With Leaks
Best of the Hales Blog
Maintenance Tip: Using Wall Anchors
From the Desk of Keith Hales
---
---
Updates at Hales Property Management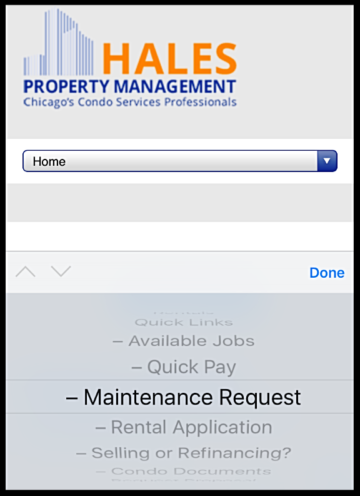 Web-Portal
– Did you know the web portal is mobile friendly?
Click here
to view instructions on how to access the site through your phone!
2017 Assessment Increases-If your Association increased assessments for the 2017 budget year, please make sure to update your recurring payment on the web portal.
Chicago Service Requests
– 311 Chicago has implemented an app to help owners throughout the city report various requests.
Click here
to download from the App Store.
Office Hours
– Our offices are open Monday-Friday 9AM-5PM. For after hours emergencies, contact 312-666-0149 and follow the prompts. The online
web portal
is available 24/7 for any non-emergency requests.
Announcement– Hales would like to welcome Rachel Plambeck to the property management team!
---
How To: Deal With Leaks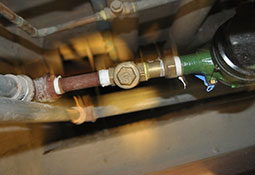 With the below-freezing temperatures of Chicago winter, hot water tanks and HVAC units have been working overtime to keep residents warm.
As a part of regular maintenance, residents or their dedicated property manager should regularly check their hot water tanks for leaks and HVAC condensate drains for build-up. While these issues may seem relatively minor, these leaks can grow and cause significant and costly damage to the property.
If you encounter a puddle by your hot water tank, act immediately because the size of the leak could quickly increase.
First, shut off the supply of gas to let the hot water tank cool down and to prevent scalding yourself with hot water. Turning off the water supply to the tank will sometimes stop the leak, especially if your turn the faucets on to drain the whole tank.
If the leak hole is small and in a flat place, a piece of duct tape can stop the leaking until a professional service person arrives. If the hole is in a hard to reach spot, or the whole area is rusted through, there won't be much that can be done until a service person arrives.
Remember, leaks are often dismissed as "just a little water", but are some of the biggest culprits when it comes to easily preventable damage to your residence. Stay mindful, and get in touch with us when in doubt!
---
Q & A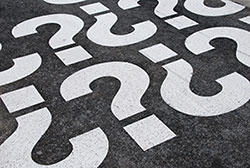 Q: Why do buildings have pet policies?
A:  Pet policies have to ride the fine line between being accommodating enough for the owners and tenants while also keeping down wear and tear on the building and discouraging residents from keeping so many animals that they'll become a nuisance to others in the building. It's important to remember that these policies tend to reflect the view of the majority of owners, but can be voted on to be amended if a majority of HOA members comes to feels differently about the issue.
---
Maintenance Tip: Using Wall Anchors
Anytime you're hanging something heavier than a pound or two, it's a best practice to use a wall anchor to ensure the object is solidly hung and won't fall. Here's an easy tutorial on how to use wall anchors:
---
From the Desk of Keith Hales
I'm sure the lack of snow and overall good weather for the past several weeks has been welcomed by most Chicago residents. However, when it comes to snow removal charges, most residents will still see an expense for that service since most of the contractors will charge a price for the entire season instead of "per push." Seasonal pricing has a couple of benefits with the largest one being that it will ensure that costs are in line with an Association's budget. Fortunately, we also wrote language into the contracts this year requiring the contractors to credit back a percentage of money owed if it snows under a certain number of times throughout the season. If this lack of snow fall continues for the rest of the season, Association's should see a credit back on their snow removal charges.
We are also working on adopting a new system for electronic signatures to assist our Boards with approving documents electronically. This will help to reduce the time and follow-up with finalizing tasks and projects requiring signatures. Don't forget to continue to submit requests and/or inquiries through your
Association's web portal
. That way, we'll be able to quickly address it with your Board and you'll be able to track the ongoing progress.
As always, your opinion matters to me.  Please let me know how we can improve our services by sending an 
email
 or contacting me directly at 312.757.4651 with any suggestions.
Keith J. Hales | President | CAM | Managing Broker