Refer a Friend and Win
Refer a friend and receive a gift card worth up to $1000.
Invite a friend to work with Hales and receive a gift card ranging from between $100 to $1000 if their Association signs up for our services. Plus, there's no limit on the number of gift cards you can earn! Learn more below…
---
1. Spread the word
Fill out the simple form below to tell a friend about Hales.
2. Your friend gets the info
Your friend will receive an email letting them know you've referred them. They will also be directed to our website where they can learn more about our services and request a proposal.
3. Everyone wins
If one of your friends decides to work with us and stays on for 90 days, you'll receive a gift card based on the size of their unit (see table).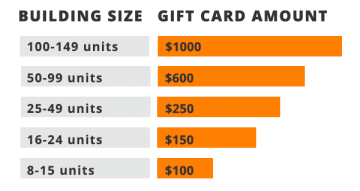 ---
Want to share with your friends? Click to share below!
Disclaimer- Only current owners that have their Association managed by Hales Property Management are eligible for the promotion. Owners account ledger must be current. Promotional value is paid out after your friend's Association signs up for Hales services and completes their third month. Owners are eligible to earn up to $500 for referring their friends.